Meet the 2023 Grand Marshals
The Grand Marshals will lead the annual Parade of Champions Saturday night (March 11) before the championship bouts of the 42nd annual Illinois Elementary School Association (IESA) State Final Wrestling Tournament.
Named Grand Marshals for 2023 are: Dan Jones, Keith Wolford, and Steve Endsley
The IESA started having Grand Marshals in 1996. The Grand Marshals are honored for their contributions to interscholastic wrestling and the young men who participate in the sport. They are nominated by the IESA Wrestling Advisory Committee and approved by the IESA Board of Directors. The marshals will play an integral role of the Parade of Champions as they will lead the 76 individual finalists and their coaches into the Convocation Center, amidst music, applause and cheers from teammates, parents, family, and fans.
Here is a closer look at the 2023 Grand Marshals: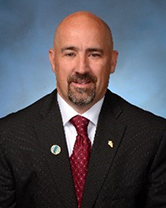 Dan Jones began his teaching and coaching career at Huntley Middle School in Dekalb in 1990. While at Huntley Middle School, Dan served as the assistant wrestling coach from 1990-1996 under Hall of Fame Coach Arch Richoz, where they won the 1991 IESA State Championship. Dan took over as the head coach in 1997 and went on to win 8 conference championships, 5 IESA Regional titles, 3 IESA Sectionals titles, and 3 IESA State Championships in 1998, 2001 and 2004. The 2001 team set an IESA record by placing 8 wrestlers into the State Finals match. In his 15 years of coaching wrestling at HMS, Dan led 11 top-ten team finishes, 72 state-placing wrestlers, and 14 individual state champions. As a wrestling dad/father, Dan was able to see his son Jake win the 2005 65lb IESA state championship, he also saw his son Evan finish as the 2008 105lb IESA state runner-up. Both sons competed for Rosette Middle School.
Dan also served as the head football and track/field coach at Huntley for 13 years. He was the head coach of the 1996 8th Grade Boys AA IESA state championship track and field team. In addition, he served as DeKalb High School head varsity football coach from 2003--2006 and the DHS head varsity boys track and field coach from 2001-2003.
Dan became the athletic director at Dekalb High School in 2006 and currently serves as the athletic director at Hinsdale Central High School. His success continued in administration when he was named Administrator of the Year by the Illinois Wrestling Coaches and Officials Association in 2012 and 2021. Also in 2022, Dan was one of 7 finalists for the National Athletic Director of the year award by the National Coaches Association. He was an Oak Forest high school graduate, completed his bachelor's degree in education at Illinois State University, and completed his master's degree in educational leadership from Aurora University.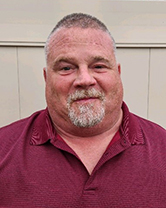 Keith Wolford is a long-time leader in the Bradley-Bourbonnais wrestling community. He graduated from Bradley-Bourbonnais Community High School where he competed on the wrestling team from 1977-1981. Keith began his coaching career as the head coach of Bradley-Bourbonnais Wrestling Club and served from 1981-1991. After having much success with BBWC, Keith began coaching at Bradley-Bourbonnais High School as the assistant head coach. Then in 2008, he took over as the head coach at Bradley Central Junior High. Keith had tremendous success with Central Junior High; he finished with a career record of 189-42. During his time as head coach, he won 7 regionals, 2 sectionals, and an IESA state championship in 2016. Keith also saw 78 state qualifiers; 1 (four-time) state champion, 1 (three-time) state champion, and numerous 2nd-5th place finishers. Keith currently works for Village of Bradley Public Works.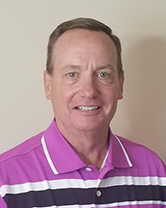 Steve Endsley served the IESA from 1988-2021 and led the Association as Executive Director from 1996-2021. Steve made a significant contribution to IESA Wrestling and served a major role in its success. IESA Wrestling has become what it is today, due to the commitment of Steve. When Steve started working the IESA State Wrestling tournament in 1989, the tournament was held at Olympia High School in Stanford, IL. Even though the tournament was small and only had 60 teams, Steve said that he learned more about wrestling in that one weekend than he had in all his years prior to that tournament. He was instrumental in initiating the two-class system and moving the state tournament to the Convocation Center on the campus of Northern Illinois University. Steve says, "I'm very proud in the growth of schools entering the IESA state series. My sincere hope is that IESA has played a small part in the lives of those who have been involved in wrestling at the junior high/middle school level. It is my sincere honor to be selected as a Grand Marshal." Steve would like to thank everyone who has been associated with the IESA state wrestling series. He owes much of the success to the wrestlers, officials, coaches, and administrators. Steve graduated from Bartonville Limestone High School in 1975. He earned his bachelor's degree in 1979 and his master's degree in 1988, both from Illinois State University. Steve was recently inducted into the Illinois Wrestling Coaches and Officials Hall of Fame class of 2020. He is currently retired, spending his time golfing, being with friends and family, and following his son, Justin, who attends Southern Illinois Carbondale University. Most importantly, Steve is thankful for all of the close friendships he has developed over the years because of IESA wrestling. "Wrestling has enriched my life in a way I could never have imagined."




Former Grand Marshals

1996--Robert Gatrell, Bloomington, Retired Executive Director of the IESA
1997--Bill Marquardt, Official & Arch Richoz, DeKalb, Coach
1998--Mike Manahan, Bloomington, Coach & Mike Pastiak, Burr Ridge, Coach
1999--Ron Karnopp, Quincy, Coach & Dave Ulstad, New Lenox, Coach
2000--Joe Pedersen, Official, Principal, & Coach
2001--Dan Farinosi, Official & Jim Moxley, Mahomet-Seymour, Coach
2002--Jim Rankin, Clifton, Administrator and Coach & Dave Brost, Official
2003--John Pine, Clinton, Coach; Tony Zens, Ingleside Taveirne, Coach; Mike Wilkey, Official
2004--Ray Cummings, Official & Mike Golimowski, Morris Shabbona, Coach
2005--Bob Jahn, Bolingbrook Humphrey, Coach & Dan Fulscher, Official
2006--Terry Milton, Clinton, Coach & Rob Porter, Mahomet-Seymour, Former IESA Champion
2007--Wayne Mooney, Joliet Gompers, Coach & Rob Russell, Sandwich, Coach
2008--Scott Kody, Official
2009--John Welter, Fox Lake, Coach; Matt Grimm, Chatham Glenwood, Coach, Dave Mathews, Official
2010--Joe Spiezio, Braidwood Reed-Custer, Administrator; Basil Bakakos, Johnsburg, Coach; Bill Honeycutt, Official
2011--Tom Norquist, Niles Gemini, Coach & Renny Garshelis, Charleston, Official
2012--Steve Lee, Prospect Heights MacArthur, Coach & Administrator; Roger Taylor, Lake Zurich, Coach
2013--Bill Stonitsch, Channahon, Coach & Frank Filippi, Jr., Glen Ellyn, Official
2014--Arch Richoz, IESA Wrestling State Tournament Manager
2015--Anthony Clarke, Zion, Official & Terry Kivisto, Lake Zurich North, Coach & Ray Winesburg, Elgin, Official
2016--Joe Cliffe, Forrest Prairie Central, Coach & Dwayne Love, Plano, Coach
2017--Phil Esposito, Darien Eisenhower, Coach
2018--Earl Brooks, Romeoville Lukancic, Coach & Steve DeNeut, New Lenox, Coach & Paul Vittone, DeKalb, Official
2019—-Jim Troemel, Lake Forest Deer Path, Coach & Tom Unruh, Erie, Coach
2022—-Bob Bell, Official & Tim Gipe, Sandwich, Athletic Director & Steve Porter, Marseilles, Coach