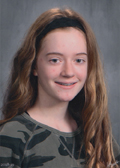 Madelyn Beck
Springfield Lincoln
Principal: Ms. Nichole Heyen
Participating in interscholastic activities has taught Madelyn Beck how to accept criticism and that valuable lessons can be learned from losing. "I also find a way to work together with everyone, which is an important life skill," she says. "I have learned to work hard and put forth the best effort possible. Even if I don't win, I have learned valuable lessons from my losses, and I can still be proud of my performance."
The Scholar Attitude Award winner for Board of Directors Division M, Madelyn has achieved Straight A Honor Roll throughout junior high and has participated in golf, basketball, volleyball and National Junior Beta Club. She's received several awards for art and technology, and she's placed in events at the National Beta Convention.
She's most proud of advancing to the IESA State Golf Tournament. Last year was her first to participate in tournaments. "I started the summer off well, but later in the season I was struggling with my game and lost my confidence," she says. "But I kept practicing with my coaches, changed my swing, and saw improvement. I tried to always stay positive, even when it was really hard. When it came to sectionals, I was nervous, but remained calm and never let my emotions get the best of me." Her ninth-place finish at sectionals qualified for the state tournament.
After high school Madelyn plans to attend college. She's interested in graphic design and appreciates the encouragement she's received from her art teacher, Mr. Mitchell. "I feel very inspired to create," she says.