2020 IESA Scholar Attitude Award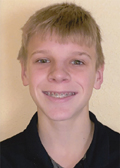 Austin Wesley
Robinson Nuttall
Principal: Mr. Craig Beals
Austin Wesley values respect and honesty as a cross country, track and basketball athlete. He demonstrated these values at a meet when he crossed the finish line ahead of the second-place runner, but Austin says he didn't win the race. At the end of the route, the left lane wasn't visible to either runner, but Austin saw the officials pointing to the left. Austin turned and ran past the other runner. "Since my competitor ended up going the wrong direction, I crossed first," Austin says. "But he was the true winner because he ran two miles faster than me."
Austin found his competitor and offered the first-place medal to the person who ran the fastest. "From this experience, I have learned the value of sportsmanship," says Austin. "It teaches students the value of supporting one another even if it means giving up the first-place medal. The medal is a 'thing,' but a true athlete is the heart and soul of interscholastic activities."
When he is not competing as an athlete or maintaining a GPA to earn a spot on the High Honor Roll, Austin volunteers with "Nutrition on Weekends" (NOW), which provides Crawford County students with bags of food to take home on weekends. This experience has been so formative for Austin that he says he would end hunger if he could make one change in the world.
After high school Scholar Attitude Award winner for Board of Directors Division N plans to attend Eastern Illinois University. He's undecided as to a career path, but grateful he has plenty of time to explore his options.