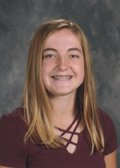 Jayce Privia
Ashland A-C Central
Principal: Ms. Candi Shaver
Jayce Privia believes being a great player means nothing if you don't have a great attitude. "If you can walk off the court, no matter the outcome of the game, with your head held high and still be humble, that's what truly makes you a winner," says Jayce. She says good sportsmanship also represents who you are on and off the court.
The Scholar Attitude Award winner for Board of Directors Division J, Jayce participates in basketball, volleyball, track, softball, Student Council and Friends of Rachel Club. She's most proud of scoring 1,000 points during her middle school basketball career. "I honestly never believed when setting the goal to reach 1,000 points that I would be able to do it, and that is why it feels so rewarding to achieve it," she says.
That's an impressive feat, yet Jayce knows she can't always be the best. Participating in interscholastic activities has taught her to be a team player and work to be a role model on and off the court. "While I can't always have perfect performance in everything that I do, I will always strive to have perfect effort," she says.
After high school Jayce wants to become a teacher and coach, following in the footsteps of her mother, Kathie, who is also the person Jayce admires most. "Teaching is something I've always wanted to do," says Jayce. "My teachers and coaches have taught me some of my most valuable lessons, and I hope to contribute to others in that same way one day."