2020 IESA Scholar Attitude Award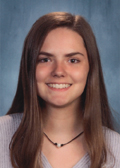 Giana Rawlings
Normal Chiddix
Principal: Jim Allen
For exemplary academic and interscholastic achievements and leadership skills, Giana Rawlings is the Scholar Attitude Award winner for Board of Directors Division H.
Giana is most proud of making the eighth-grade basketball team as a sixth grader - a goal of hers since fourth grade. "Every day, I would go outside or go to the gym, so I could better improve my skills," Giana says of her focus. Upon making the team, she texted all of her former basketball coaches and thanked them for their efforts in coaching her.
Although her new teammates were accepting and supportive, some people did not want her on the team. Coach Julie fought for Giana's spot. "She saw something in me that no one else did," says Giana. But Coach Julie was also fighting cancer and died only three months after Giana lost her grandmother to dementia. When Coach Julie died, Giana dedicated a basketball game in her honor. Everyone in the stands wore purple, Coach Julie's favorite color, and the coach's family attended the game and received purple flowers. "Every time I step on the court, I know that I have two perfect angels watching over me from heaven and cheering me on," says Giana.
She also participates in volleyball, Student Athlete Leadership Team (S.A.L.T.), Team Liberty, band and choir. After high school she'd like to attend Purdue University - her grandparents' alma mater - and study medicine. "I love learning new things about the human body and how it works," she says. "Whether that be making someone feel better or inspiring someone, I want to make someone's day."