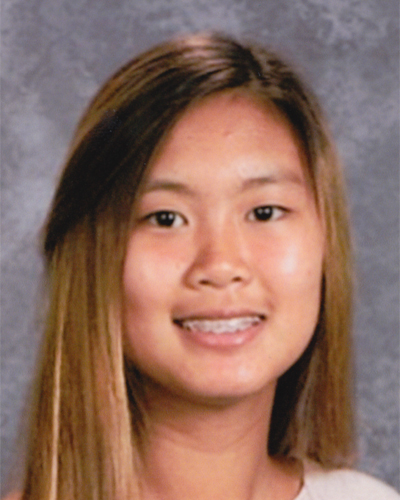 Emily Ye
Springfield Lincoln
Principal: Mrs. Nichole Heyen
Emily Ye is the Scholar Attitude Award winner for Board of Directors Division M. She was selected for the honor based on her exemplary academic record, persistence, and commitment to interscholastic activities.
"Failure is a key part of success," Emily says. It is impossible for a person to avoid failure, but "the important thing is what you learn from your mistakes." Through Scholastic Bowl, cross country, and track, she has learned to continue to pursue her goals no matter what barriers she faces. She's also learned the importance of teamwork, endurance, and persistence.
Emily also participates in BETA Club, Student Council, Mathletes, Student Ambassadors, and other activities while maintaining a 4.0 GPA. She most admires Eleanor Roosevelt. "She continuously fought for the rights of everyone and encouraged women to fight for their beliefs instead of hiding in the shadows," Emily says. "I hope that one day I can have an impact in this world that will last like her legacy."
After graduating from high school, Emily would like to attend Johns Hopkins University School of Medicine to study immunology. She says she is inspired to study this field in part because her father has struggled living with an autoimmune disease. "Watching someone suffer is one of the worst things someone can experience, but taking this experience and turning it into an opportunity to help others is something I really want to do," she says. "Making a difference in the world and changing things for the better is one of my greatest goals and values."