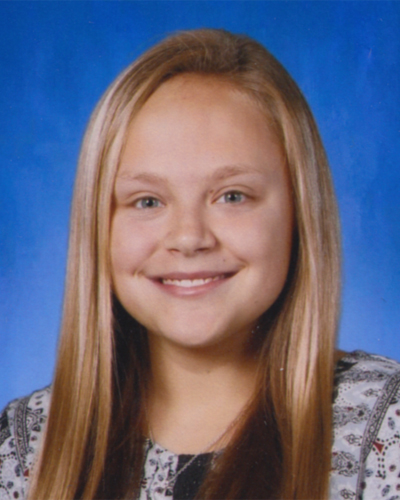 Bella Smith
Mattoon
Principal: Mr. Jeremie Smith
Bella Smith is an outstanding student, a natural leader, and a valuable member of her athletic teams. For these reasons Bella has been selected as the Scholar Attitude Award winner for Board of Directors Division L.
In addition to maintaining a 4.0 GPA, Bella plays basketball and volleyball and participates in numerous school and community activities. Some of these include peer mentoring, Relay for Life, and Fellowships of Christian Athletes. Through her participation in interscholastic activities, Bella has gained independence, leadership skills, and communication skills. "I have learned to work with others for the benefit of my school, my community, and my team," she says. "With trust and hard work, we can overcome bigger obstacles than we could tackle alone."
She most admires her seventh-grade math teacher, Mrs. Kim McQueen. Bella says spending a year watching Mrs. McQueen make math fun and exciting solidified Bella's decision to become a teacher after college. She is also inspired by the teachers and coaches at her school who make sure all students have warm coats and enough food.
Bella's dream is to spend her life helping students with special needs. Through her volunteer experience in a classroom for developmentally delayed students, she sees "the positive difference a caring teacher makes in the lives of students. I believe that students with special needs are some of the most resilient people who truly display the virtues of perseverance and persistence. I am very inspired when I spend time with these hard-working students."