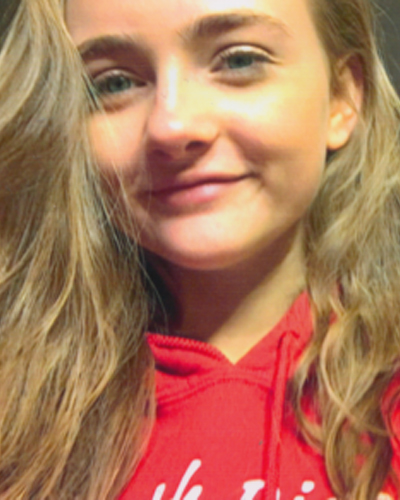 CiCi Beith
Danville North Ridge
Principal: Ms. Eliza Brooks
For her commitment to community service, academics, and interscholastic activities, CiCi Beith has been selected as the Scholar Attitude Award winner for Board of Directors Division K.
CiCi is proud to say she's a strong part of a recovering family, and she strives to help other families who struggle with addiction. After struggling with drug addiction for nearly 20 years, CiCi's mom has been clean for over two years. CiCi says many children of addicts fall into generational addiction, depression, and anxiety, which affects their lives and progress in school. She is helping to plan meetings and special activities for kids whose parents struggle with addiction. "I am proud to be part of a family that is trying to change the statistics," she says.
She maintains a 4.0 GPA while participating in softball, volleyball, and show choir. Her participation in interscholastic activities helps her manage her time while still maintaining a busy schedule. "I have also learned what I like and dislike, and where my strengths and weaknesses lie," she says. And her teammates helped support her when a fellow student bullied her in sixth grade. "When someone goes through a bad experience like that, they will withdraw from society," she says. "I couldn't withdraw because I had already made a commitment to my team to be there for practices and games. That is what got me through!"
After high school graduation, CiCi plans to study criminal psychology at the University of Florida or Purdue University. "My experience with addiction in my family led me to always wonder 'why?' and studying psychology could help me understand, and to then help others understand," she says.