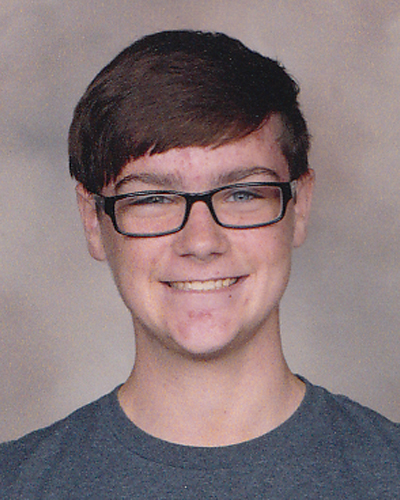 Colin Zeppi
Manteno
Principal: Mr. David Conrad
Colin Zeppi credits his participation in interscholastic athletics, particularly wrestling, with the motivation to lead a healthier lifestyle. His outstanding academic performance and leadership have led to his selection as the Scholar Attitude Award winner for Board of Directors Division G.
He has a 4.0 GPA and participates in band, Scholastic Bowl, choir, and Math Club in addition to wrestling. He is most proud that he is a "free thinker," and believes too many people go with the pack. "You see it everywhere from sports, to politics, to even who's the 'coolest' in school," he says. "We would see more diversity of thought and be able to attack questions at many angles if people developed their own thoughts."
Another free thinker, Space X and Tesla founder Elon Musk, is the person Colin most admires. "Even when he was a kid he developed a video game and sold it to a video game magazine for $500," Colin says. Musk is "an inspiration to many and is a prime example of using ingenuity."
Colin says good sportsmanship takes competition and makes it what it is meant to be - fun! "That's not to say you shouldn't take the sport seriously, because I strongly believe you should give everything that you have to it," he explains. But "we're all here to have fun, not to have somebody freaking out because of a missed shot or bad play."
After high school, Colin plans to join his college's ROTC program and be commissioned into the military upon graduation. He's considering a major in engineering because of the problem-solving skills needed in this field.