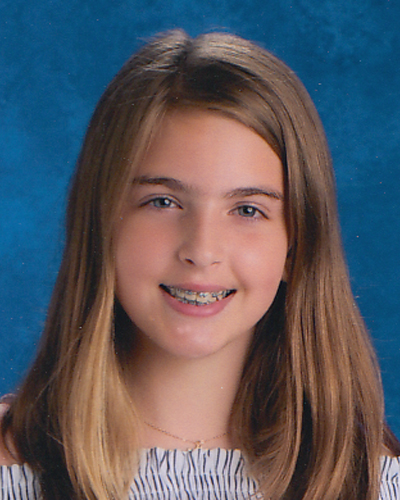 Abby Obradovic
Homer Glen Homer
Principal: Mr. Troy Mitchell
Abby Obradovic's commitment to excellence in academics and extracurricular activities has led to her selection as the Scholar Attitude Award winner for Board of Directors Division D.
In addition to maintaining a 4.0 grade point average, Abby is involved in Scholastic Bowl, Chorus, Show Choir, Honor Club, and ILMEA Choir. As an honors student, Abby is with the same classmates in nearly every class, so her involvement in extracurricular activities has allowed her to make new friends from different groups. "I find this significant because I really enjoy the company of other people," she says. "I have also learned valuable life lessons from these activities, such as sportsmanship, bravery, and many others."
Abby was selected for the Middle School Honors Performance Series at Carnegie Hall. She says this once-in-a-lifetime opportunity to perform in a choir comprised of 200 other students from around the world is her favorite experience ever. "I was ecstatic to be able to share my talent with the world and with my many friends who also attended," she says.
If Abby could make one change in the world, she would ensure disabled people receive the proper resources in order to function to the highest potential. "I am a firm believer that everyone, no matter their appearance or I.Q. score, should be treated equally as every other human being," she states.
After graduating from high school, Abby aspires to attend an Ivy League school such as Harvard or Yale. She enjoys math, science, English, and literature, so she is open to many options concerning her future career path. "I love working with people and trying to help them prosper," she says.