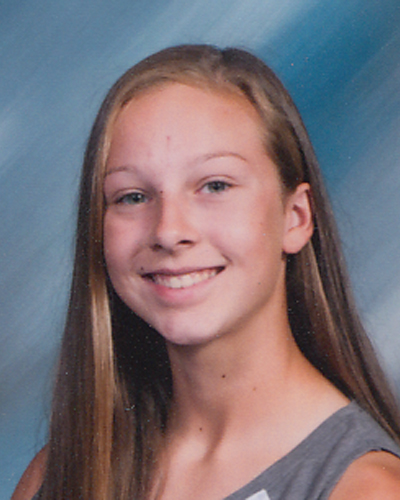 Hannah Tellor
Germantown Hills
Principal: Mr. Dimitri Almasi
The Board of Directors Division H recognizes Hannah Tellor as the Scholar Attitude Award winner for her hard work, determination, and commitment to excellence in and out of the classroom.
In seventh grade, Hannah's team won the state basketball championship. "We were the first girls' basketball team in school history to win a state basketball title and also the first (school) team to bring home a state trophy in the last ten years," she says, citing this feat as her proudest moment. She says this accomplishment was only possible because of the team's commitment to each other. "Our team always makes the extra pass to put each other in scoring position," she says. "We are each other's biggest cheerleaders and are always excited for each other."
In addition to basketball, Hannah participates in softball, volleyball, track, chorus, solo and ensemble competitions, newspaper staff, and Character Crew while maintaining a 4.0 GPA. "These activities have made my junior high years memorable and have taught me a lot," she says. She has also made many friends through interscholastic activities, some of whom compete for other schools. "I've also learned how to balance school, sports, clubs, and activities," she says.
Interested in the medical field since she was young, Hannah plans to study chiropractic medicine after graduating from college. "Helping others by treating them will be my way of giving back," she says.