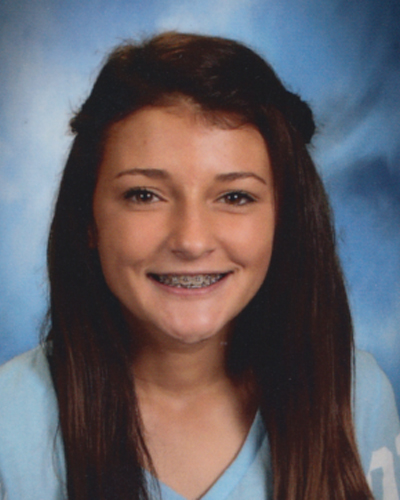 Bailey Barber
Hamilton
Principal: Ms. Shelli Jennings
Interscholastic activities have taught Bailey Barber numerous lessons, including a sense of responsibility, the meaning of accountability, confidence in herself, teamwork, and good sportsmanship. For her commitment to excellence in and out of the classroom, Bailey has been selected as the Scholar Attitude Award winner for Board of Directors Division J.
Bailey learned the importance of self confidence when she was nine years old. That year she competed in the USTA national tumbling finals. Lacking confidence, she believed she wouldn't perform well at the high-pressure event, but she placed 7th in a field of 35 girls. "I learned that day that if you work hard, it will pay off," she says. "Whenever I feel defeated, I remember that day and I tell myself not to give up."
She maintains a 4.0 GPA while participating in volleyball, track, band, and her favorite sport, basketball. She notes that before each game, officials meet with team captains and remind them to have good sportsmanship. "To me, sportsmanship is more than a word that is spoken to a young athlete prior to a game," she says, explaining that sportsmanship is an opportunity to spread positivity. Most importantly, sportsmanship is respecting others. "I know that being able to respect others will get me much further in life than winning games and trophies."
After high school Bailey aspires to study chemical engineering in college. "I enjoy math and science and challenges," she says. "I would like to help with research to create new medications to help cure diseases."