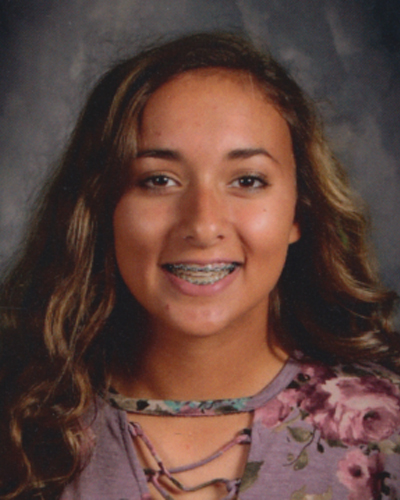 Kaya Buchanan
Wenona Fieldcrest
Principal: Mr. Nate Lorton
Interscholastic activities have taught Kaya Buchanan the importance of teamwork, positivity, and encouraging others. These traits, along with outstanding academic performance, have led to her selection as the Scholar Attitude Award winner for Board of Directors Division E.
Kaya's participation in softball, volleyball, and Student Council has taught her to have a positive attitude and to encourage others, she says. "When I encourage others, they become more confident and that radiates throughout the whole team."
Some of these traits were on display in the summer of 2017 when Kaya played on a traveling softball team. "We didn't start the season as well as we would've liked," she recalls, but a major tournament provided an opportunity for redemption. "We played the best we had played all season and better than the three previous seasons," she says. In the semi-finals, her team lost in extra innings to the eventual tournament champion. "After that weekend (and third-place finish) we played the rest of the season with confidence and determination and ended up with our best season record since becoming a team."
She's also learned the value of good sportsmanship. "Great sportsmanship comes from athletes who are willing to give 100 percent at all times, but also who are humble about their achievements," she says. When professional athletes don't exhibit great sportsmanship, kids don't see what acceptable behavior looks like, she believes, and that's crucial in setting good examples for others. "You never know when someone younger than you is watching."
After high school Kaya plans to attend college and earn a degree in special education. "I want to work with students who either have autism or special needs," she says.