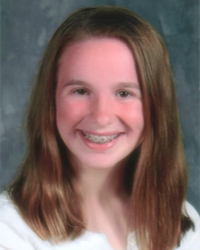 Emilie Collins
Pontiac St. Mary's
Principal: Mr. Richard Morehouse
Interscholastic activities have taught Emilie Collins numerous lessons, including character building, teamwork, communication, and hard work. For her commitment to excellence in and out of the classroom, she was selected as the Scholar Attitude Award winner for Board of Directors Division E.
Emilie's participation in volleyball, softball, basketball, band, scholastic bowl, and various clubs, combined with her 4.24 GPA has helped her develop admirable qualities. Notably, she has learned the value of sportsmanship. Emilie notes, "Sportsmanship is mainly about representation. You are representing your family, your team, and yourself. It is an important quality to have because you are showing people that your care more about showing fairness and good character than winning a game."
Her experiences have also taught her to see the best in people. If Emilie could make a change in the world it would be for equality. She believes everyone has a place in society and everyone's place is meaningful.
Throughout her time in junior high school, Emilie is most proud of being on the high honor roll each year. She notes, "Pushing myself to achieve high honor roll every year has taught me that meaning of hard work and discipline. High honor roll has helped me build a reputation for myself and I am extremely proud of it."
Emilie plans to attend college following high school with intent to study pre-law at Notre Dame University. She hopes to become a lawyer to help people, especially those who are innocent.