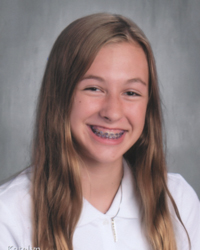 Kate Dennis
Rockford Eisenhower
Principal: Mr. Jeffrey Carlson
As a standout student-athlete, Kate Dennis values the overall health, mental, and social benefits interscholastic activity participation has provided throughout her time at Eisenhower Middle School. For her athletic, academic, and citizenship accomplishments, Kate was selected as the Scholar Attitude Award winner for Board of Directors Division B.
Of her basketball accomplishments, Kate is most proud of playing on Eisenhower Middle School's 8th grade basketball team for three years. Kate was the team's first 6th grade girl to play on the 8th grade team, and she led Eisenhower in points and rebounds. Kate is equally proud to contribute to her current team's conference, regional, sectional, and Elite 8 runs. She notes, "I am grateful and proud of the opportunity that I was given to play up. I also enjoyed the teams and friends that I made along the way."
Kate is a fierce and focused competitor. She recalls surgery recovery as her most difficult junior high career moment thus far, due to the training time she missed out on. With dreams of playing college basketball, Kate dislikes taking a break from playing - even between seasons. She notes, "I never feel like skipping a day because that one day I will skip means someone else is out there training for the same dream."
In addition to pursuing a collegiate basketball career, Kate would be interested in studying sports medicine at Duke or University of North Carolina. "One day, I would like to help other athletes to recover, regain, fix and heal any injuries they may have for them to get back to their sport," she notes. "Playing sports gives me perspective of how important it is to get back to what it is you love and to help someone do that would be so rewarding."