15 Individuals Named as IESA Scholar Attitude Award Winners
2013 Scholar Attitude Winners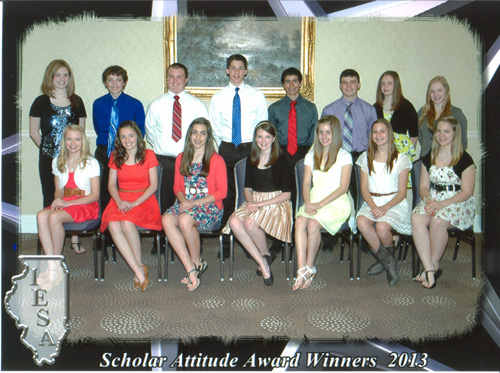 Back Row L-R: Madison Fox, Jeff Gifford, Wade Lassen, Michael Picchiotti, John Schmidt, Adam Clark, Andie Bolton, Emily Albrecht
Front Row L-R: Cara Geurts, Julia Megazzini, Grace Konczyk, Meghan Curran, Breezy Keppy, Julia Chillon, Cassie Bastian
The Illinois Elementary School Association (IESA) is pleased to announce the winners of the 2013 Scholar Attitude Award. One student from each of the 15 IESA membership divisions was selected by a panel of judges and will be honored with a luncheon on Tuesday, April 30, at the Doubletree Hotel and Conference Center in Bloomington. The luncheon ceremony will begin at 11:00 a.m.
The 15 award winners, two guests of each award winner, and the school principal will be guests of the IESA at the luncheon. All award winners will receive a plaque, an award medallion, a gift card, and a DVD of the day's events. Mr. Stephen Bargatze, of the Tennessee Secondary School Athletic Association, will be the guest speaker.
To be considered, a student from an IESA member school must be of 8th grade status, have a minimum grade-point-average of 3.5 on a 4.0 scale, must have participated in at least one IESA activity during each year of their two-year junior high career, and demonstrated outstanding citizenship during their junior high tenure. In addition, each student is required to submit a typed essay titled "The Value of Sportsmanship."
"I am pleased to announce the 2013 IESA Scholar Attitude Award Winners," said Steve Endsley, IESA Executive Director. "These 15 students represent the very essence of junior high school interscholastic activities. They have excelled in the classroom, on the athletic fields, in fine arts activities, and have demonstrated outstanding leadership in their communities. This is the 15th year of the program and I am continually amazed at the caliber of students who win this award. It is indeed an honor to be associated with students who have achieved so much and are so prepared for their high school careers and beyond."
Named as Scholar Attitude Award Winners for 2013 are:
John Schmidt, Ingleside Big Hollow
Meghan Curran, Annawan
Julia Megazzini, Yorkville
Julia Chillon, Frankfort Hickory Creek
Cassie Bastian, Forrest Prairie Central
Emily Albrecht, Dunlap Valley MS
Jeff Gifford, Clifton Nash
Cara Geurts, Stanford Olympia
Grace Konczyk, Lincoln West Lincoln-Broadwell
Madison Fox, Augusta Southeastern
Andie Bolton, Rantoul St. Malachy
Breezy Keppy, Paris Crestwood
Adam Clark, Williamsville
Wade Lassen, Robinson Nuttall
Michael Picchiotti, Edwardsville Lincoln
"The students selected for our Scholar Attitude Award represent the finest junior high school students in the state of Illinois," said Steve Endsley, IESA Executive Director. "The students have demonstrated their abilities in the classroom, on the playing fields, and in their communities. It is refreshing to see that the youth of Illinois are preparing for their high school careers and beyond. These students will be the leaders of tomorrow."

Steve Endsley, IESA Executive Director, Administrator for Scholar Attitude Award
Email