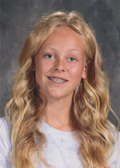 Ava Boyd
Mahomet-Seymour
Principal: Mr. Nathan Mills
Participation in interscholastic activities such as cross country, track, Student Council and choir have taught Ava Boyd leadership skills, confidence and communication skills. "I have learned traits as to what makes a good leader and how to treat everyone fairly," says Ava. "I have also learned how to have a voice that people will not ignore."
For her leadership on the field and in the classroom, Ava has been named the Scholar Athlete Award winner for Board of Directors Division K. She has been named to the High Honors Roll throughout junior high. Ava is most proud of receiving the Most Valuable Runner award in seventh grade. "This award is usually given to an 8th grader, so earning this as a seventh grader was a true honor," Ava says.
Participating in cross country also helped Ava with a difficult situation. One of her best friends decided to drift away from Ava's group of friends and join another group. "She invited me to join her, but I refused because I was not comfortable with that friend group," Ava says. "And I could never leave my friends because those are the people who I rely on most." Running helped relieve her stress, she says. "Cross country has always helped me with difficult situations and still does," she says.
After high school Ava aspires to attend an Ivy League college. She's interested in either medicine or law. "Either of these two professions will allow me the opportunity to help others, which is my goal," she says.