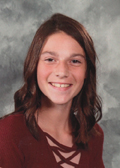 Kaylee Celus
Annawan
Principal: Ms. Dawn Heitzler
Kaylee Celus has learned to be a good sport while competing in softball, basketball, volleyball and track and field. She values hard work and says good sportsmanship is at the heart of all competitive activities.
Kaylee has translated those attitudes and values into success both in and out of the classroom. She is the Scholar Attitude Award winner for Board of Directors Division B.
Named to the High Honor Roll throughout junior high, Kaylee also participates in speech and Student Council. She says interscholastic activities have taught her that regardless of what happens, her team is always there for her. An incident at the state track meet brought this point home for her. Her 4x100 relay team had taken first place at Sectionals and couldn't wait to return to the state meet. On the morning of the meet, however, Kaylee woke up very ill. "I wanted so badly to run, so I wouldn't let the team down," Kaylee recalls. "They could see the anguish in my face and understood how much I wanted to run for them. They told me it was OK and that it was more important that I felt better. I am so grateful for such understanding and amazing teammates for supporting me."
After high school, Kaylee plans to attend college in order to become a junior high math teacher. "I love the challenge and the thrill I feel when I get the answer correct," she says of math. She wants to share her love of math and demonstrate to her students that math is both fun and rewarding.