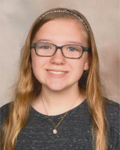 Chloe Whalen
Herscher Limestone
Principal: Ms. Michelle Chavers
For her excellence in academics and leadership in interscholastic activities, Chloe Whalen has been selected for the Scholar Attitude Award for Board of Directors Division G.
Chloe says she has a fairly easy time absorbing information and performing well on tests and her schoolwork, and this is reflected in her 5.0 grade point average. "I never really struggled," she admits, but notes that participating in interscholastic activities has taught her she will not always win or be the best at everything. "That's OK, as long as I give my best effort," she says.
Through her participation in orchestra, Jazz Band, Speech Team, Scholastic Bowl, Math Team, track and field, and serving as Student Council President and co-captain of the cross country team, she's learned that good sportsmanship goes far beyond the playing field or court. Every person she comes into contact with is trying to be successful, whether that's in basketball, in a mathlete competition, or at work, Chloe says. "Sportsmanship is respecting those people and their achievements, no matter what," she says. No one will always be the best or win every challenge he or she faces. "If you have true sportsmanship, your losses can be wins," she says. "Instead of hating whoever bested you, respect them and use their accomplishments to better yourself. Sportsmanship is what makes the world keep moving forward." Without sportsmanship, no one would go anywhere, making success impossible.
After high school, Chloe plans to attend college and is interested in STEM-related fields of study. "Our world is shifting toward more and more advanced technology, and I want to be able to understand the technology so I can use it to help with problems in our world."