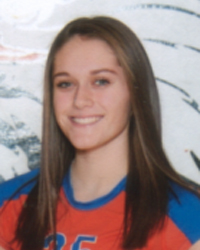 Payton Kinder
Newton Jasper County
Principal: Mr. Travis Wyatt
Payton Kinder is someone who always strives for her best. For her commitment to excellence in the classroom, in interscholastic activities, and in her community, Payton was selected as the Scholar Attitude Award winner for Board of Directors Division N.
In addition to earning a perfect GPA throughout junior high school, Payton also participated in softball, volleyball, and track. As an athlete and student, she has learned how to be a team player, listen to others, be more disciplined, respectful, and set ongoing goals.
Payton is most proud of being invited to play in the 2016 Bracket B 12U Softball World Series. She played with the Illiana Dream Seams, a team that values the game, good sportsmanship, and strong academics. She notes, "I was able to adapt to new coaches, learn new plays, and learn to respect, trust, and work with new teammates. I was also able to earn the respect, trust, and confidence of the girls and coaches in a very short amount of time."
However, it was not without struggle that Payton experienced success as an athlete. After a shoulder injury, she had to undergo continual physical therapy and limit the amount of activities she did. Her teammates' support helped her overcome the difficult time and get back to the field.
After high school, Payton hopes to attend University of Illinois with the intent of pursuing a career in pediatric medicine. Her grandmother was a director of a hospital surgery department, so Payton often visited and developed an interest for hospital work.