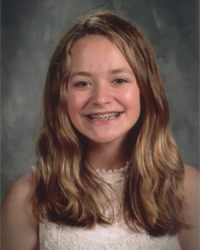 Olivia Theirl
Paris Mayo
Principal: Mr. Jeremy Larson
Olivia Theirl's participation in interscholastic activities has provided her with additional knowledge, friendships, and great memories. For her leadership skills, strong citizenship, and great attitude in and out of the classroom, she was selected as the Scholar Attitude Award winner for Board of Directors Division L.
Throughout middle school, Olivia has participated in volleyball, band, choir, cheerleading, and various clubs. She notes, "Every interscholastic activity benefits you so much more than just the experience, but a lifetime of knowledge and great memories."
Through a difficult situation, Olivia equally found benefits. During her sixth grade year, she did not make the volleyball team but was asked to be the team manager. As a manager, she attended many practices, open gyms, clinics, and summer camps - which helped her make the team in her seventh grade year. "This experience has taught me perseverance and to always push yourself to do your very best even if you don't see results right away," she notes.
Olivia believes her greatest feat so far at Mayo Middle School was getting inducted into the National Junior Honor Society, when she was also voted in as President. She notes, "It is a privilege and honor to be part of such an elite group of students that have worked so hard. I was so proud and couldn't wait to share the great news with all my family."
Following high school, Olivia hopes to attend Eastern Illinois University to study elementary education. Like many teachers in her life, Olivia is eager for the opportunity to inspire children to reach their fullest potential.