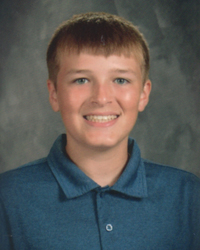 Ben Geiger
Morton JHS
Principal: Mr. Lee Hoffman
When times are tough Ben Geiger gets going. His composure as an athlete, sportsmanship, and attitude as a hard working student are some of the many reasons he was selected as the Scholar Attitude Award winner for Board of Directors Division H.
Throughout seventh and eighth grade, Ben maintained over a 4.0 GPA while participating in baseball, scholastic bowl, and other various activities.
Ben's experience in pitching and working through the mental aspects of the game proved helpful when he spent some time in the Pediatric ICU during the summer. Ben received an IV and blood transfusion, but was able to stay calm using tricks his coach taught him to maintain mental toughness. He recalls, "I used some of the mental parts of pitching to have self-control when I went through my medical trauma. When you have control, it's easier to be confident that you will succeed."
Ben is most proud of being named the Rotary Student of the Month in December. The title recognizes the hard work and effort of a single student. Ben believes, "Never brag about your achievements. Let your hard work, practice, and effort show in your actions and everyone else will do the talking for you."
Following high school, Ben plans to attend college to study a subject in the medical field. According to Ben, "I want to become a doctor because of my aptitude for science, my desire to help people and make a difference, and my personal experience with doctors."