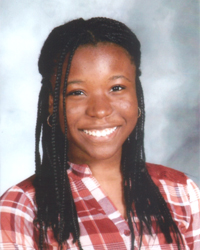 Uche Onyenemezu
Crest Hill Richland
Principal: Dr. Kelly Whyte
Uche Onyenemezu's commitment to doing what is right, her leadership skills, and excellence in extracurricular activities and academics has led her to being selected as the Scholar Attitude Award winner for Board of Directors Division D.
In addition to earning a perfect grade point average, Uche is involved in basketball, volleyball, band, choir, and various clubs. Among her activities, she values sportsmanship, treating people fairly, and being respectful. Uche believes, "good sportsmanship does not in any way reduce someone's competitiveness, but rather enhances it. When an individual gives their best, they don't worry much about the outcome."
Equally, Uche finds many benefits to participating in a variety of activities. She believes being involved in interscholastic activities have helped her make new friends, learn new skills, manage time, build strong character, and generate leadership skills.
Uche is inspired by her mother, Patricia, to chase her dreams and create meaningful aspirations. Uche's mother was born in Nigeria and she had to teach herself math, science, and language arts. Now, her mom holds a masters degree and is working to become a teacher and writer. Uche notes, "When I discovered that my mother wanted to be an author, which wasn't the standard job in my family, she taught me that I can be anything I want to be when I grow up, as long as I love what I'm doing."
After high school, Uche plans to attend college. She is interested in learning about law or graphic design at Yale University.