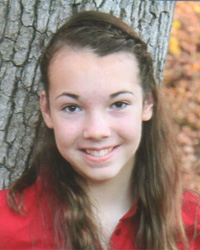 Claire Bushur
Teutopolis
Principal: Mr. Patrick Drees
Claire Bushur, a strong student and athlete in softball, basketball, volleyball, and track and field, has learned a great deal in the successes and disappointments of her interscholastic career.
Her mature attitude when experiencing both the ups and downs led her to be named the Scholar Attitude Award winner for Board of Directors Division N.
Claire's proudest moment thus far is setting the Class A state record in the girls shot put during her seventh grade year. Her success was a bit of a surprise; she noted, "I did not realize until nearly the end of the season that my throws were in the range of past champions. Therefore, I was shocked to not only make it to state, but to win. I am most proud because I made so much progress throughout the season - increasing my throw by nearly ten feet."
Her most difficult moment was when her basketball team experienced a loss following an undefeated season. The loss was devastating to the whole team, but Claire and her teammates were still able to earn third place in state. She recalls, "I wouldn't have been able to handle that experience as well if I didn't have eleven other girls who were going through the same thing."
Claire plans to attend college after high school. Although not certain the field of study, she would like to concentrate in teaching or physical therapy.