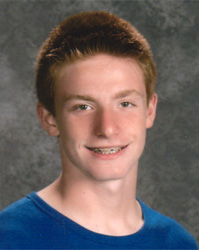 Chance Reiniesch
Gillespie
Principal: Mrs. Jill Rosentreter
Chance Reiniesch has gained many benefits while participating in interscholastic activities, most of which apply to his activities and academics. This is just one of the reasons he was selected as the Scholar Attitude Award winner for Board of Directors Division O.
While Chance has learned several lessons while participating in basketball, track, and choir, his friendship with a special needs student has meant the most to him and taught him a great deal. He notes, "Harrison inspires me to work harder at everything I do and show me that giving up is simply not an option. Though Harrison is not invincible, he truly is an inspirational and uplifting person."
Chance used that "never give up" attitude to help his team win the IESA Class 3A state basketball championship in seventh grade. He is most proud of the sportsmanship he and his teammates showed on and off the court. He writes, "We were extremely respectful to each other, coaches, other players, referees, and fans. I believe this even helped us earn our title."
In high school, he also hopes to compete in the pole vault, an event in which he garnered 3rd place honors at last year's IESA state track and field meet by clearing 9 feet. Additionally, Chance would like to be involved with the Fellowship of Christian Athletes, Show Choir, and the National Honor Society.
After high school, Chance hopes to study pre-vet wildlife biology before pursuing a doctorate in veterinary medicine.