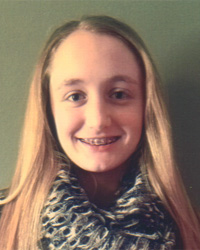 Myah Gray
Hamilton
Principal: Ms. Shelli Jennings
Myah Gray knows what it is like to fall down and get back up. When she was nine years old she had several medical issues and fought for her life. After a month in the hospital she recovered and learned about perseverance.
Now an active student-athlete in volleyball, basketball, and track, Myah values everything she has learned during her time in the hospital and while participating in interscholastic activities. For those and many reasons, Myah is the Scholar Attitude Award winner for Board of Directors Division J.
Responsibility, patience, teamwork, and accountability are a few traits Myah recognizes as benefits for her participation. She notes, "I have learned many valuable life lessons because I have participated in interscholastic activities and I am very thankful for that."
Myah showed tremendous self-discipline and the ability to do the right thing when she attended a birthday celebration in 7th grade and someone brought alcohol to the party. While many of her friends drank that evening, Myah did not drink knowing that doing so would affect her reputation and ability to participate in extra-curricular activities.
After high school, Myah plans to attend college, where she is interested in studying law.