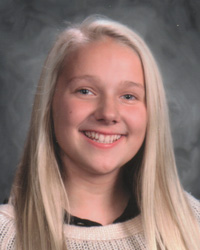 Kennedy Hall
Danville North Ridge
Principal: Mr. Chris Rice
Kennedy Hall credits band, jazz, and show choir for teaching her the value of hard work, commitment, and trust. She feels those activities have made her a better person overall.
Her positive attitude and perfect academic performances in seventh and eighth grade have earned her the Scholar Attitude Award for Board of Directors Division K.
Kennedy is most proud of performing a solo in jazz band for the first time in front of an audience and judges at a university competition concert. She recalls, "I was extremely proud, but I was also apprehensive about doing it. By having confidence in me, and trusting me with this opportunity, my director really did impact my life by helping me build my own confidence."
Similarly, her most difficult moment in middle school occurred at the season's first show choir competition, where her team finished second. The Redcoats Show Choir held the longest winning streak in school history, so the loss was especially difficult. Kennedy notes, "As a team, we all decided to work harder and work together to have a better performance the next time we had a competition. After that event, and working really hard together, we won the next two competitions."
In the future, Kennedy plans to attend a large public research university, such as the University of Illinois or UCLA. She is most interested in the fields of media, advertising, and entertainment.