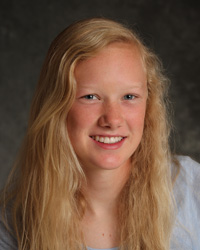 Anna Burrus
Concord Triopia
Principal: Mr. Adam Dean
With parents working as a teacher and farmer, Anna Burrus naturally values hard work in the classroom and in interscholastic activities such as softball, basketball, volleyball, track, and her work with agriculture.
For her strong attitude and work ethic, Anna is the Scholar Attitude Award winner for Board of Directors Division M.
Anna believes the lessons and benefits she has gained from participating in interscholastic activities will help her when she is older. She cites organization, teamwork, and healthy living as the most valuable.
Anna's proudest moment highlights her involvement with FFA and 4-H. She learned to tame a wild steer, weighing ten times more than her, in five months for the county fair. She notes, "The is a big feat because it takes courage, determination, hard word, strength, dedication and team work within my family. Training and showing steers has taught me that no matter how daunting a job may seem at first, with hard work most anything can be accomplished."
After graduating from high school, Anna plans to attend the University of Illinois to study animal science, farm accounting, or sports medicine.