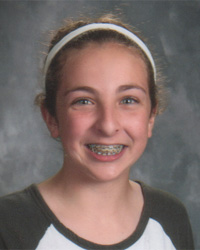 Katy Meyers
Elmwood
Principal: Mr. Stan Matheny
The lessons Katy Meyers has gained from interscholastic participation, including sportsmanship, teamwork, and a sense of competition, applies to both athletics and academics.
Her success in the classroom and in cross country, basketball, track, volleyball, and scholastic bowl has earned Katy the Scholar Attitude Award for Board of Directors Division F.
Katy appreciates a good challenge, since that is her type of competition. She aspires to be the best she can be in all aspects of her life. When it comes to the most important lesson from middle school, Katy notes, "Being in five interscholastic activities, I have learned to work with a lot of different people. I know this skill will help me when I become an adult."
Her high school plans include being a member of the cross country, basketball, and track teams. She has had plenty of success in these activities as she advanced to the IESA cross country finals in both her 7th and 8th grade years and the track finals last year.
In the future, Katy hopes to have a successful career in marine biology, education, or engineering.