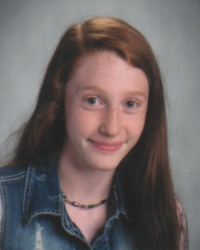 Nicquelette Fazekas
Dixon Reagan
Principal: Mr. Andy Bullock
Participating in cross country, track, and scholastic bowl has taught Nicquelette Fazekas about teamwork, leadership, confidence, and goal setting.
Nicquelette, the Scholar Attitude Award winner for Board of Directors Division B, has translated those lessons both in the classroom and competition.
In addition to maintaining a 4.0 GPA average throughout seventh and eighth grade, she won the IESA Class 2A Cross Country State Meet championship this past fall. The first-place finish is one she considers her most proud accomplishment, noting, "Coming in fourth place the year before, gave me the motivation to strive for first as an eighth grader. The morning of the race, I had one thing in mind and that was to cross the line first."
Nicquelette's strong work ethic runs in the family; she has learned many lessons from her older sister, Jacqueline, writing, "I learned from her that the more you get involved, and the more community work you do, the more you grow as a person. She has shown me that if you work hard, get involved, and have fun you can achieve your goals."
In the future, Nicquelette hopes to merge her love of running and helping others to become a sports physical therapist and coach.