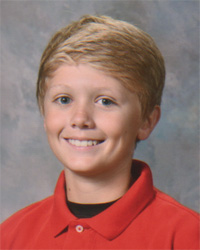 Kaden Froebe
Lincoln West Lincoln-Broadwell
Principal: Mrs. Heather Baker
The feat Kaden Froebe is most proud of is among the reasons he was awarded the Scholar Attitude Award for Board of Directors Division I. Kaden is proud to be a three sport athlete, involved in the community, and have academic success.
Kaden notes, "I have found that my desire to compete athletically carries over into my academics, as I strive to excel both on and off the court. This accomplishment has made me learn to prioritize my education, sports, and activities to be the best that I can be in all areas." He hopes he is a role model for his two younger siblings by excelling in all of his classes and activities.
He also attributes his participation in interscholastic activities as a way to build connections with his school, community, and peers. Equally, his love of basketball, one shared by his Great Grandma, helped him cope with her passing. Kaden found out in the middle of a basketball game and rather than sitting out the rest of the game, Kaden opted to play hard in her memory.
After high school, Kaden hopes to attend a four-year university in Florida to study accounting or law. He also aspires to be a collegiate basketball player.