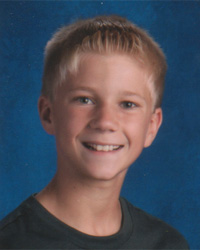 Justin Splitt
Ingleside Big Hollow
Principal: Mrs. Christine Arndt
While participating in interscholastic activities, Justin Splitt has learned the importance of goal setting, sportsmanship, and leadership. He has translated those lessons on and off the field while participating in soccer, cross country, basketball, track, choir, student council, and as a member of the Recycling Committee.
Justin, the Scholar Attitude Award winner for Board of Directors Division A, has earned several accolades during middle school and his proudest accomplishment is being elected Student Council President. He notes, "I have worked very hard and volunteered many hours of my study hall and after-school time to serve on the student council to help make my school the best it can be. Being elected President this year was very exciting and I felt very proud."
Justin not only dedicates his time to improve his school, but also to be the best athlete he can be. Last season, Justin set a goal to qualify for the track and field state meet in the mile. He worked hard and did extra training, which helped him secure a spot for the state finals where he finished 14th out of 34 competitors. Justin recalls, "I have learned that setting a goal for yourself and then working hard towards that goal and never giving up can lead to success."
In the future, Justin hopes to study architecture at Michigan University or the University of Illinois.