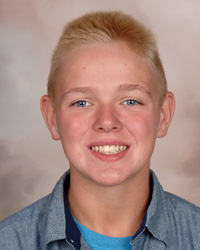 Noah Curl
Braidwood Reed-Custer
Principal: Mr. Shane Trager
Teamwork and the special bond between teammates is a benefit Noah Curl has derived from his participation in baseball, wrestling, speech, and scholastic bowl.
Noah's ability to go the extra mile for his teammates and strong academic success has led him to being named the Scholar Attitude Award winner for Board of Directors Division D.
Philanthropy is also important to Noah, as he is most proud of his organization of the "Take 5 for Bray Memorial 5K Run/Walk." Noah organized the fun run in memory of Brayden Grayling, a little boy in Noah's community who passed away due to brain cancer. Noah's stepsister also passed away from a similar tumor. After seeing how the loss affected his community and family, Noah decided to do something to help.
He noted, "I knew something had to be done. The proceeds went to another family, at the wish of Brayden's family, with a child battling cancer to help them with expenses and also to help create a new playground in Brayden's name."
In the future, Noah hopes to become a professional baseball player or police officer.