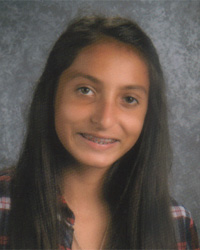 Sam Moreno
Yorkville
Principal: Mrs. Lisa Adler
Interscholastic activities, like cross country and track, have taught Sam Moreno the importance of setting goals, time management, and working through challenges.
Her ability to apply those important lessons to her academic and interscholastic activities has earned Sam the Scholar Attitude Award for Board of Directors Division C.
As a seventh grader, Sam began the track season with a 7-minute mile in the time trial. Sam worked hard and saw her times drop in the 1,600 and 800-meter events; she eventually set a goal to qualify for the state finals. Although her coach said it would be very difficult to break six-minutes in the mile, she trained even harder and was able to clock 5:47 at the sectional meet. Although she was just one second away from a state qualifying spot in the mile, Sam did accomplish her goal as she qualified for the 800-meter run.
While she learned a great deal from her track season, she saw the wisdom in what her mother has taught her. Sam notes, "The person I admire most is my mom. She taught me the importance of sportsmanship and to never give up. She has always believed 'failure is the reason to try harder' and 'failure leads to success.' She has helped me through times where I haven't had the best race or played the best game."
After high school, Sam hopes to study engineering at MIT, Stanford, or the University of Illinois.