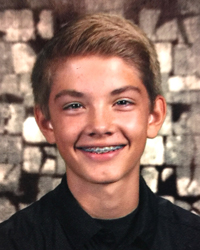 Braden Wallace
Flanagan
Principal: Mr. Brian Yoder
A natural leader in baseball, basketball, and track, Braden Wallace also values sportsmanship, honesty, and responsibility in the classroom and in his interscholastic activities.
Braden's integrity on and off the field has led him to being named the Scholar Attitude Award winner for Board of Directors Division E.
A busy athlete, Braden is most proud of making high honor roll every quarter for the past four years, noting, "I am very determined to do my best in all my classes. If I do struggle with a class, I do everything I can to get myself back on track." He hopes to continue a 4.0 grade point average throughout high school.
In addition to having high aspirations in the classroom, Braden feels being a role model is one of the most important things he can be. He reflects, "Being a role model is important to me because I want other kids to look up to me and I want to motivate them to become a better individual."
Braden aspires to become a radiologist in the future. After hurting his wrist in an accident, the field sparked his interest.