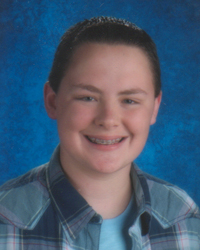 Zach Smith
Mattoon
Principal: Mr. Jeremie Smith
Zach Smith exhibits strong leadership qualities and a passion for music, earning him both the Drum Major role at Mattoon Middle School and the Scholar Attitude Award for Board of Directors Division L.
Zach is most proud of being selected as the MMS Marching Wildcat Band Drum Major, a feat that is rarely accomplished as a seventh grader.
"To be chosen as the Drum Major, one must demonstrate responsibility, organization, musical ability, and communication skills," Zach said. "From the beginning of my career in marching band, it was clear to me that I wanted to be a leader. Being a leader in the band helps me to feel confident and full of pride. It has shown me that I can transfer these leadership qualities into other aspects of my life."
Those qualities have transferred to a successful academic standing for Zach, as he enjoys getting to know his teachers and learn in their classrooms. Zach is also involved in a variety of volunteer roles and clubs.
In the future, he hopes to attend the award-winning Indiana University Jacob's School of Music. Zach also aspires to teach in the Mattoon public school system and be involved as a band director.