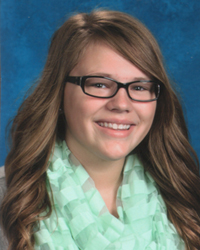 Bekah Follis
Nokomis JHS
Principal: Mr. Eric Bruder
Bekah Follis is passionate about helping others, no matter their uniqueness. She has been able to share that passion in the classroom and while participating in basketball, volleyball, and various clubs at Nokomis Junior High School.
Bekah is the Scholar Attitude Award winner for Board of Directors Division O.
The person Bekah most admires is her young friend Calissa, who has special needs. She is nonverbal and faces many challenges every day. "I admire her because Calissa faces these challenges with a smile on her face and joy in her heart," Bekah said. "She never gets down on herself. She teaches me to be happy about the little things in life. She is the reason I want to be an occupational therapist when I am older."
When it comes to sportsmanship, Bekah knows how important it is to her teammates, teachers, parents, and friends. She believes that when she exhibits good sportsmanship, she is a role model to everyone.
Bekah recently traveled to Haiti on a mission trip which furthered her desire to help others. After high school, Bekah would like to attend Washington University in St. Louis.