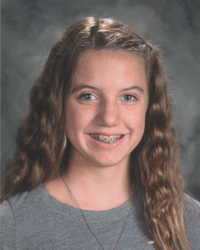 Sydney Weber
West Salem
Principal: Mr. Dale Schmittler
Sydney Weber is no stranger to hard work and balance. She was able to earn the highest GPA for a female student-athlete in more than one sport for West Salem Grade School while participating in various clubs and volunteer opportunities.
Sydney is the Scholar Attitude Award winner for Board of Directors Division N.
Sydney is most proud of being named the co-recipient of The Harry Bradham Outstanding Student Athlete Award as a seventh grader. The award is presented to the female student-athlete who maintained the highest grade point average while participating in more than one sport.
Sydney maintained a 3.94 GPA while competing in softball, volleyball, basketball, band, and choir.
"I am proud of this because it takes a lot of dedication, organization, and hard work to be able to balance the workload of school classes and extra-curricular activities," Sydney said. "It was nice to be recognized for that achievement."
In the future, Sydney plans to attend college with hopes of becoming a sports trainer and translator.