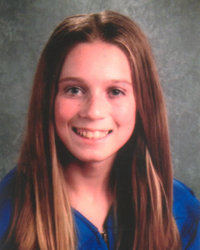 Ellie Bilotta
Lockport Oak Prairie
Principal: Mr. Mark Murray
Ellie Bilotta knows what it means to fall and get right back up. A softball player since she was 5 years old, Ellie tried out for her sixth grade team. Despite her experience, she did not make it. Instead of giving up, Ellie kept practicing and tried out for a local traveling team. She successfully made the team, and went on to make her seventh and eighth grade teams as well.
Her determination, positive outlook, discipline, and hard work in the classroom have led her to being named the Scholar Attitude Award winner for Board of Directors Division D.
As a softball, golf, and volleyball player, Ellie is most proud of being named to the Team Leader position on her traveling softball team.
She notes, "As Team Leader, the coaches relied on me to lead warm up drills, motivate teammates, keep the team positive, and recognize their efforts throughout the season. Being viewed as a leader and an independent woman by my peers, greatest friends, and the people I respect is an amazing honor."
In the future, Ellie hopes to develop her naturally creative side by attending college in New York to study design or architecture.