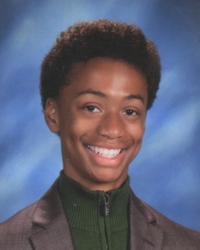 Zaire Harris
Springfield Lincoln
Principal: Mrs. Nichole Heyen
Zaire is passionate about youth leadership and assisting others, as shown in his extracurricular activity participation and being a captain for the past three years in all four of his interscholastic activities (cross country, basketball, scholastic bowl, and track).
Zaire's leadership qualities and high aspirations, mixed with his strong academic standing has earned him the Scholar Attitude Award for Board of Directors Division M.
Zaire's proudest moment to date is becoming BETA president at his school and going on to the National Competition for speech.
"BETA stands for the idea that in order to learn for ourselves, we must give unto others," Zaire said. "Being a part of BETA provides me with the opportunity to be a beacon of light, by showing others how to give of themselves in order to assist those in the community."
After high school, Zaire plans to study mechanical engineering at a prestigious university. He would like to work with robotics that would support America's Homeland Security.