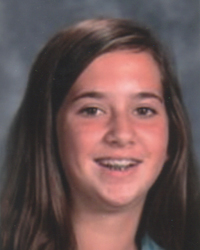 Morgan Greene
Eureka
Principal: Mr. Kelly Nichols
Morgan Greene believes sportsmanship is a learned behavior; that it shows your heart and attitude on and off the court. After breaking her foot in sixth grade, Morgan gained a new understanding of what sportsmanship looks like.
Quickly going from starting guard to keeping the score book after her injury, Morgan's basketball season as a player came to a halt. The injury also caused her to miss part of her volleyball season. However, Morgan learned that everyone on the team has a different role and her role had to adapt.
Morgan, the Scholar Attitude Award winner for Board of Directors Division H, has maintained a perfect 4.0 GPA throughout seventh and eighth grade, while also being involved in softball, basketball, volleyball, and chorus.
"We have all heard the saying actions speak louder than words," Morgan said. "That is so true with sportsmanship. The way you display yourself in sports shows more than words do. In interscholastic sports, if you show sportsmanship, people are going to respect you."
In the future, Morgan plans to attend Butler University in hopes of becoming a Physicians Assistant.