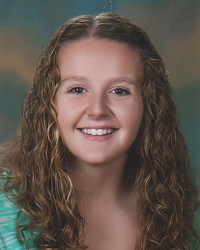 Cassadi Forman
Rushville Schuyler Industry
Principal: Mr. Jim Shepherd
Throughout her participation in interscholastic activities, Cassadi Forman has learned to channel her competiveness on and off the court.
The Scholar Attitude Award winner for Board of Directors Division J participates in volleyball, basketball, Team Quest, IMEA, and manages to maintain a 4.0 GPA. She strives to excel in each of her activities.
"I have always been a naturally competitive person, but until I started participating in interscholastic activities, I never knew how to use that to my advantage," Cassadi said. "My experiences have helped push me to become the best person I can be, not just on but also off the court. This competiveness has given me the drive to succeed."
In addition to being a strong athlete, Cassadi enrolls in a self-taught curriculum for her math classes so she can work ahead. By the end of the school year, she will become the first student in her school's history to take Algebra 2 as an eighth grader.
Cassadi is interested in medicine, and would like to become an orthopedic surgeon in the future. She would also like to attend a smaller school in her pre-medical studies on a sports scholarship for basketball, volleyball, or softball.