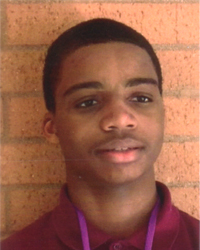 Chase Robinson
Matteson Colin Powell
Principal: Ms. Kimberly Johnson
While interscholastic activities, like basketball and band, have taught Chase Robinson the importance of setting goals, he is determined to become the best version of himself in every aspect of his life.
Whether it's on the basketball court, playing the French horn, in the classroom, or beyond, Chase is determined to reach his full potential. Because of that attitude and drive, Chase is the Scholar Attitude Award winner for Board of Directors Division C.
He has big aspirations in the future, and some encouragement from a teacher helped him to focus on his "great potential."
"I had a teacher that told me that I was like a box of crayons. A box of crayons has several colors to choose from. She told me that I had so many talents and great potential and that I needed to use all the crayons in my box. That analogy inspired me to step out of my comfort zone, try new things, always pursue my potential and God's purpose for me."
Chase hopes to attend Duke or North Carolina to eventually become a motivational speaker.