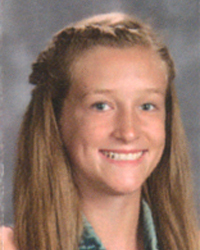 Jordan Harmon
Tolono Unity
Principal: Ms. Laura Fitzgerald
After switching schools, Jordan Harmon knew the transition could be a difficult one. However, she felt interscholastic activities helped her get through the tough situation.
She began summer practices with her cross country team prior to the school year, where the team dynamic and teammate relationships helped the first day of school feel less overwhelming.
Jordan transitioned with a positive attitude all while successfully competing in cross country, track, and maintaining straight A's. For those reasons, she is the Scholar Attitude Award winner for Board of Directors Division K.
Jordan is most proud of her team's accomplishment at the 2014 IESA Class 2A State Cross Country Meet. Unity Junior High earned third place and Jordan finished 12th.
"We were very excited because we had gotten fourth place two years in a row, and in both those years there wasn't a fourth place trophy," Jordan said. "At the meet our team had two All-State runners, and I was one of them. This was exciting for me because the year before I had gotten 20th place."
After high school, Jordan would like to attend the University of Illinois or Eastern Illinois University to compete on the cross country and track teams. She is interested in studying education or human services.