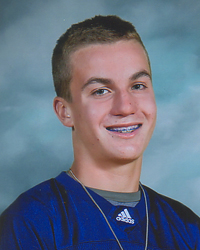 Nathan Garard
Gibson City GCMS
Principal: Mr. Jeremy Darnell
Moving schools in the middle of Nathan Garard's basketball season was a challenge, but his new teammates welcomed him with open arms and helped him integrate into a new school.
Nathan adapted quickly, becoming GCMS's new point guard and excelling in the classroom to earn a 4.0 GPA. Nathan's character and strong academic success has earned him the Scholar Attitude Award for Board of Directors Division G.
One of Nathan's greatest achievements was being a member of his school's 8th grade boys basketball team that advanced to the IESA Class 3A state basketball finals and finished in 3rd place. However, the accomplishment itself is not what he is so proud of, but rather the road his team took to get there.
"My team, like any, had its flaws, but I feel that I have accomplished something when I think about our path because of how we learned to truly work as a team," Nathan said. "The name we put on this accomplishment is third place in state, but I look at it as how to take a group of athletes and make them into an award winning team."
Because of his grandfather's strong love of the military, Nathan hopes to attend either the Navy or Air Force Academy in the future.