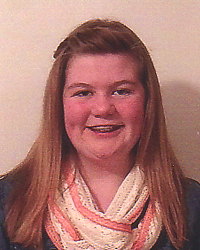 Emily Friese
Flanagan
Principal: Mr. Derek Sieg
A natural leader in softball, basketball, volleyball, student council, and chorus, Emily Friese also values sportsmanship and respect in the classroom, at home, and in her community.
Emily's belief that "how you act on the mound, on the field, or on the court, says more about you than whether you are winning or losing a game," and her strong 4.0 GPA has led her to being named the Scholar Attitude Award winner for Board of Directors Division E.
Emily is most proud of winning her school's Falcon Award in multiple sports. The award winner is chosen by coaches and given to the player who works the hardest, is the best leader, and is the most inspirational teammate.
Noting the Falcon Award, Emily says, "To me, it is an award that recognizes the player who best epitomizes what being a good sport is all about. For example, in basketball I knew I was not the fastest one or the best dribbler, but I tried to make up for those by doing whatever coach asked of me, whether it was playing good defense or rebounding. If we were running sprints, I tried to give 100% every time and be a good leader."
After high school, Emily hopes to attend the University of Illinois and major in Agriculture Communications. She would also like to be a pitcher on the Illini softball team.