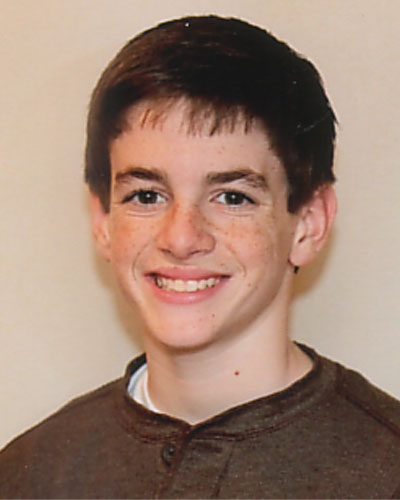 Brady Kinder
Staunton
Principal: Mrs. Brooke Wiemers
Although Brady Kinder participates in basketball, baseball, and track for Staunton Junior High School, he was not always an athlete for the Terriers.
Brady spent his kindergarten thru sixth grade years at a small parochial school, with a class size of 10, before moving to the public school before his seventh grade year. While he felt a bit overwhelmed in the new and larger environment, athletics helped Brady with the transition.
Meeting new kids from his own town and those from other towns are among Brady's favorite benefit from competing in sports, especially in track when there is time to get to know competitors between events.
Speaking of track, Brady had the opportunity to participate in the 2013 IESA state track meet when his 4 x 400 relay team advanced to the finals. Brady described that experience the best. "It (advancing to the state track meet) was something that I really had to work at and train for that paid off. My team may not have won first place, but I am very proud of the fact that we made it that far."
Besides athletics, Brady is passionate about science. He believes "cancer" is the worst six letter word in our vocabulary, and because of that he hopes someday there is a cure. Having recently lost a cousin to lung cancer, he does not want to see anymore people affected by the horrible disease. After high school, Brady hopes to use those beliefs and inspirations to study nursing and health care at SIU-Edwardsville.