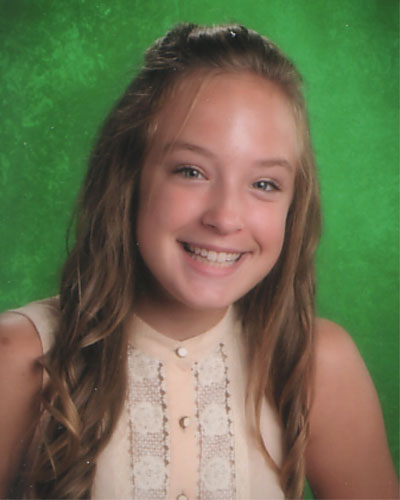 Katie Veenstra
Robinson Nuttall
Principal: Mrs. Sue Catt
Katie Veenstra, the Board of Directors Division N Scholar Attitude Award winner, believes "when working together as one team, one family, one unit, anything is possible."
She had the pleasure of seeing that belief come to fruition when the Nuttall Middle School volleyball team made school history, went undefeated in its regular season, and qualified for the state finals during Katie's seventh grade year.
"I am proud of my team, and I am proud of myself for all of us working together as a true team," Katie wrote. "It just goes to show that hard work does pay off, just like my father has taught me. Working hard and working hard with others will carry me through high school, college, and beyond."
However, the road to the state finals was not easy for Katie. At the beginning of the season, she played very little and often sat on the bench. However, Katie was not content with just playing occasionally; she wanted to become the starting setter. So, she learned as much as she could from the bench and worked hard at perfecting her skills.
Two weeks in, Katie was awarded the starting position. More importantly, the path to becoming a starter provided a learning experience she will never forget.
Katie, who competes in volleyball, cheerleading, and track, has earned a 4.0 GPA throughout junior high school. In the future, she hopes to use the lessons from those activities and academic success to study medicine and eventually become a doctor.