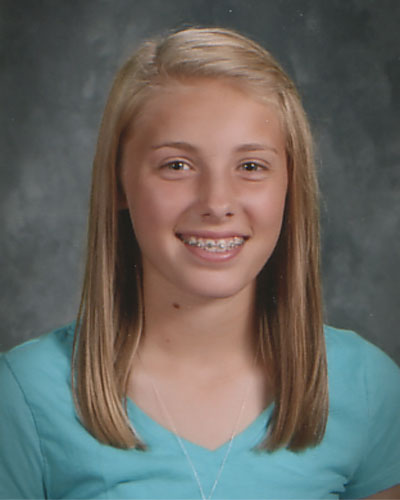 Erin Lenschow
Mahomet-Seymour
Principal: Ms. Heather Landrus
Through her participation in volleyball and basketball, Erin Lenschow has learned the importance of working well with others, overcoming adversity, time management, and how to take constructive criticism.
Erin, who has maintained a 4.0 GPA throughout junior high school, is the 2014 Scholar Attitude Award winner for Board of Directors Division K.
In addition to athletics, Erin is heavily involved as a leader in extracurricular activities in school and in the community, such as Peer Mentor in Bulldog Buddies, Fellowship of Christian Athletes Huddles, and various clubs.
Of her individual accomplishments in each of her interscholastic activities, Erin is most proud of her ability to successfully balance it all.
She notes, "I am very proud of how I have been able to balance getting all of my schoolwork done while being in sports and being involved in other community service. It can be difficult trying to fit all of my activities into one day, which often requires that I have to prioritize when they conflict."
Erin is unsure what she wants to study post-high school, but she is attracted to the math and science fields, which is sure to keep her just as busy as she is currently.