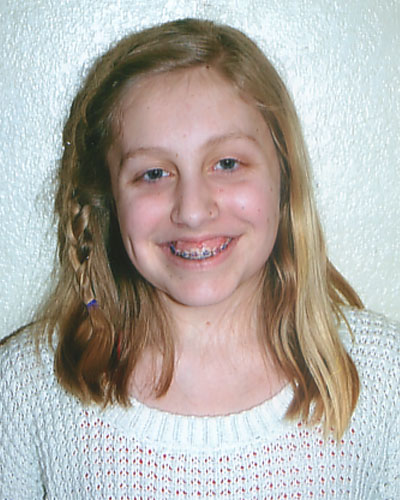 Alyssa Ely
Bloomington St. Mary's
Principal: Mr. Mark Csanda
Interscholastic activity participation and personal experiences has taught Alyssa Ely that if you have a positive attitude when faced with a challenge, you can manage and overcome all obstacles.
At just 13 years-old, Alyssa was diagnosed with a genetic syndrome known as Turner's Syndrome. However, she doesn't let the numerous doctor visits and daily injections stop her from living life to its fullest. Alyssa somehow balances sports, music, and academics, in addition to being service-minded in her Bloomington-Normal community.
Despite her athletic, musical, and scholarly achievements, Alyssa is most proud of organizing a bake sale with her friends. As a result of their efforts, they were able to raise $900 for a local family's medical expenses regarding their child diagnosed with Charge Syndrome. Alyssa is also proud of the efforts her school takes in fighting homelessness in her community – where she also enjoys serving in the St. Mary's soup kitchen.
Alyssa's persistence and excellence have led her to win the 2014 Scholar Attitude Award for Board of Directors Division H.
After high school, Alyssa would like to pursue opportunities that utilize her artistic and creative talents, such as architecture and design or culinary arts.